The Sonos brand is synonymous with hi-fi, whole-home audio. The PLAY:1 is the most affordable wireless speaker in the Sonos family, with the same app and a surprisingly dynamic range. The design is compact, durable and stylish. It's available in two colors: white with a light-grey grille and black with a grey grille.
The PLAY:1 is compatible with Alexa-enabled smart speakers and has one of the best companion apps in terms of audio control, ease-of-use and streaming service compatibility. The setup process is lengthy and involved, but in the end the speaker is tuned specifically to your room and ready to play high-fidelity music using your Wi-Fi network.
We placed all our speakers side-by-side to compare the sound quality. The PLAY:1 has one midrange woofer and a tweeter that are powered by their own amplifier.
This set performed great in our sound tests against speakers that cost twice as much. The Bang & Olufsen M3 was the only speaker that outperformed the PLAY:1 in our sound quality tests and the difference was only noticeable since we had both speakers setup at the same time to quickly switch back and forth.
The PLAY:1 exhibited stunningly accurate vocal clarity placed perfectly in front of crisp and clear treble frequencies. The bass response isn't as prevalent and booming as some of the speakers we tested, but its proportion was good compared to the rest of the frequencies.
During the setup process, the Sonos app asks you to walk around the room waving your phone or tablet to analyze room reflection and set the EQ curve. You can adjust the EQ settings in the app if you don't enjoy the sound of the automatic room adjustment.
The app is compatible with all the popular streaming services, such as Spotify, Apple Music, Amazon Music and Pandora. The app is your control center for multiple streaming services and it syncs music libraries from your mobile devices. If you prefer to use the Spotify app to navigate playlists, it automatically recognizes the PLAY:1 so you don't have to use the Sonos app.
The Sonos app is the best app we tested in terms of whole-home audio control and compatibility with multiple music platforms.
The only major feature omission is the lack of Bluetooth connectivity. Bluetooth is convenient for quickly pairing and unpairing mobile devices but doesn't offer the range or fidelity of Wi-Fi. The PLAY:1 also doesn't have a 3.5mm auxiliary input, so keep that in mind if you plan to play music with a legacy music player like the iPod Classic.
Design Sonos Play:1
The Sonos Play:1 is not like most other small wireless speakers. It doesn't use Bluetooth, is not portable and won't even take a 3.5mm plug to accept a non-wireless source.
Like other Sonos units, you'd better be ready to embrace wireless streaming before buying.
The Sonos Play:1 is easily the most accessible speaker Sonos has made, though. It's the prettiest, the smallest and the cheapest.
However, it is as well-made as its bigger brothers. The sides of the Play:1 are covered by a single-piece metal grille that curves smoothly around its edges. Its top and bottom are plastic, but still look and feel great.
The Sonos Play:1 is 16cm tall, with a base that's roughly a 12cm rounded-off square. You can now buy all sorts of stands for it, which attach to a thread on the back, but I still find its simple physical convenience a key draw. It fits onto a small table, a bookshelf or kitchen sideboard without taking up much room.
This is an almost alarmingly simple speaker, hardware-wise. It has a volume rocker and play/pause button on its top, and an Ethernet socket on its back. That's it, aside from the power jack and wall-mounting socket.
If you're not familiar with the Sonos system, here's how it works: any music sent to the Sonos Play:1 is not streamed using AirPlay or Bluetooth, but Sonos's own Wi-Fi-based software system. You access this through an iOS/Android app, or on your computer.
The Sonos system incorporates loads of streaming services including Spotify, Deezer, Amazon Music.
Setup
In the early days of the Sonos system you had to buy a bridge to connect your speakers to your home Wi-Fi. But now it's much more like a standard wireless speaker.
On first firing up the app for iOS or Android, it should recognise the speaker almost immediately. You then simply select your home Wi-Fi network and type-in your password. That's it.
If your Sonos runs old firmware, or if the app struggles to find your Play:1, you just need to plug it into your router using an Ethernet cable to get started. There's such a cable in the box. Either way, setup takes just a minute or two.
Interface and App
Sonos is also less closed-off than it used to be. Until 2016, all music selection for your Play:1 had to be done through the Sonos app.
This is an attractive and well-made app, but many find the restrictive Sonos approach annoying. It also has worse music discovery than the average streaming app. Spotify users can now stream directly from the Spotify app, though, as you would with a Bluetooth speaker.
It makes using Sonos feel much more natural, particularly if you, say, use Spotify on your phone on the way to work.
In the UK where I'm using the Play:1 you can use 49 services through the app. This includes most streamer favourites including Tidal, Google Play Music, Apple Music, Amazon Music and old favourites like 7Digital, Napster and Deezer.
Podcast fans may find their app of choice isn't supported. Sonos's solution is TuneIn Radio, the most popular internet radio app and also a good way to listen to podcasts. It comes 'preinstalled' in the Sonos app.
You can also set alarms using the app, although as there's no snooze function you'd better be good at getting out of bed.
The other key role of the Sonos Play:1 is as surround speaker in a Sonos surround sound system. Two can be paired-up with a Sonos Playbar and, if you want the full effect, a Sonos SUB. However, a full 5.1 setup will cost you just under £1800.
One major missing feature in the Play:1, becoming more glaring by the month, is a full-array microphone. We're starting to see more of these in wireless speakers that can integrate with Amazon Alexa, letting you simply ask for specific tunes. There's no word of such a voice-controlled Sonos speaker. And as there's no mic on the Play:1, no hope of an update either.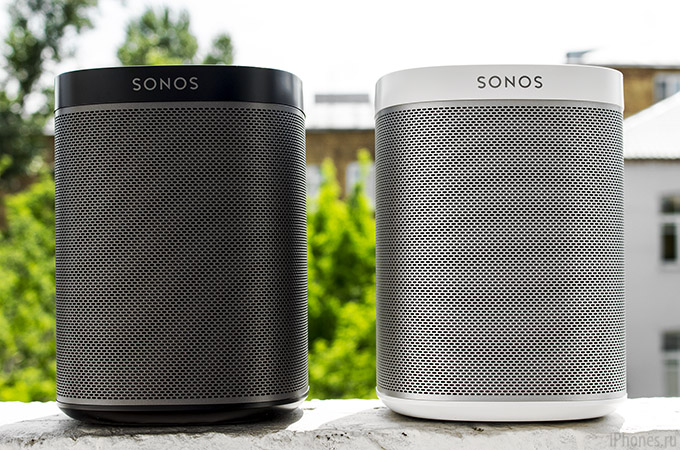 Build
In shape and size, the One looks are practically identical to the Play:1. The only significant aesthetic departure is the replacement of the Play:1's grey wraparound grille with a black or white grille, depending on the colour of speaker you've chosen.
Overall, the One blends into its surroundings even more effectively than its predecessor.
Things have changed on the top plate, where the three buttons of the Play:1 have been replaced by a touch-sensitive panel decorated with a circle of tiny, white LEDs and symbols.
These represent play/pause, the microphone and Sonos' now-familiar context-sensitive actions, while the white LEDs illustrate when Alexa is switched on.
Sonos is keen to point out that switching Alexa off is a matter of tapping the microphone symbol, and your total privacy is represented by the lights being off altogether.
Unlike the Play:1, the One also gets a dedicated Pairing button, just above the ethernet socket.
You no longer need to have one of your Sonos units wired into your router, although we'd still recommend using cables for the most stable and reliable connection. Sonos wireless network is one of the best around, so you are unlikely to encounter too many issues with the wi-fi route.
Features
Although you can switch Alexa off entirely, it's often worth having her listening, particularly because she is more deeply integrated here than with rivals.
he clearest example is that you can talk to the One exactly as you would Amazon's own Echo, so instead of having to say "Alexa, play Bowie on Sonos", you simply say "Alexa, play Bowie", and one of his classics will spring forth from your One. That might sound like a small detail but, in terms of regular interaction, it's a big difference.
If you want to voice-control music in other rooms, specify where (eg. "Alexa, play Bowie in the lounge") and the One will send music to the Sonos kit you've ascribed to that 'zone' – even a non-Alexa-enabled Sonos speaker, such as a PlayBar or Play:5. "Alexa, play Bowie everywhere" sets all your Sonos speakers to synchronised Ziggy Stardust mode.
If you're worried that having Dancing In The Street blaring from your One will prevent Alexa from hearing your request to skip Dancing in the Street, a combination of noise-cancelling, something called "smart voice capture" and a custom-designed six-microphone array ensures that she can always hear you.
The Sonos One launched only supporting Amazon Music but has now added Spotify, Deezer, TuneIn and Audible voice control into the mix, which is very welcome.
Of course, you can also use Alexa on the One exactly as you do an Amazon Echo or Echo Dot, so as well as playing music you can set timers and alarms, check the weather, add items to your shopping list – all small features, but useful nonetheless. We'd suggest the One is particularly good as a kitchen speaker.
We have loud music playing from the One in the kitchen and can still get Alexa's attention from the adjoining room with only a slightly raised voice.
You know when Alexa hears you, too, as any mention of her name is met with a chime of acknowledgement, signalling that you can continue your request. That might make the experience sound disjointed, but it's quick and natural.
With an Echo Dot you look for a visual clue that Alexa is listening. The One's chime is quicker and more in keeping with audio communication, so it leads to more natural-feeling interactions.
The quality of the microphones make the One less likely to mis-hear your requests and instructions – we find it makes fewer mistakes than our Echo Dot. Correctly hearing the request is only half the battle, though, and Alexa is still capable of misunderstanding.
The most common issue is when you say "play Ladytron" (for example) and she instead starts playing a song with those words in the title. That can be annoying at first, but you can avoid that by saying "play some music by Ladytron" instead.
Those in the Google ecosystem will be delighted to hear that Google Assistant is due to be added to Sonos by the end of this year, following on from the recent update which brings AirPlay 2 support.
Sound and streaming
Setting it up is nice and straightforward and those familiar with the Sonos way of things aren't in for any surprises. When Sonos first launched the Play:1, the speakers were dependent on a separate wireless bridge in order to communicate with your Wi-Fi. That's no longer the case, as a recent update allows the speakers to latch onto your Wi-Fi without any support, although Sonos advises that homes with poor Wi-Fi coverage may want to keep using the bridge.
And for homes with particularly frustrating Wi-Fi coverage, Sonos has launched a separate accessory called the Boost, which is basically a souped-up version of the Bridge. As Sonos describes it, the Boost (£79, $49) offers "enterprise-grade wireless capabilities" to stretch that signal right through the house.
Once you've done got the speakers plugged in, it's a case of using the app to make sure everything's communicating. If you're worried that one speaker won't be loud enough on its own, fear not - the Play:1 kicks surprisingly hard. No, it's not quite hitting the levels of the Play:3 or Playbar, but that's hardly a startling revelation.
On the inside is a midrange woofer and a tweeter, and while you'll only be getting the mono experience with one can, it's enough to easily fill a room with crisp sound.
The question is: do you want to fill a room or fill a house? If it's the latter, and you're already using Sonos audio at home, then these are excellent sonic limbs to cast into a bedroom, kitchen or even a bathroom.
But if you're using this as your main living room music source, you're going to want to add a second one in for stereo sound, which obviously doubles the price. The Play:1 kicks up a decent amount of bass though it won't be quite enough for, so we'd recommend pairing with a Sonos Sub if you're serious about getting the most out of the Play:1.
It could easily become a "just one more and then I'm through" kind of addiction. But if you do decide to take another hit, adding more speakers to your system is certainly easy, as we found. Once set up, you can pair your speakers together easily via the app to create that stereo sound.
You can also connect any other Sonos speaker to your Sonos bridge, so the whole family will play nicely together. Once you're all connected up, you can sync music across the house or have different music playing on different speakers. Controlling the Play:1 is extremely easy too.
With the Sonos app you have access to the local content on your controlling but you're also able to stream services such as Spotify, Rdio, Napster and SoundCloud. You can also do it via desktop software on your PC or Mac.